Chiropractic Care
Whether you want to pursue your favourite sport, pain-free, or keep up with your grandkids, chiropractic care could help you enjoy greater mobility and a higher quality of life.
At The Joint Chiropractically, our focus is on getting the spine healthy versus relieving symptoms. When the spine works properly and healthily, the body can heal itself more effectively.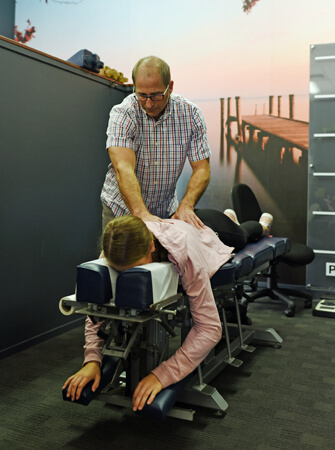 Dr Jeff Yadlosky (Chiropractor) uses various techniques that he modifies for children and older adults by using a gentler approach and lighter pressure. The following methods are employed in our practice:
Diversified – This manual, hands-on adjusting technique is the primary one that our chiropractor uses.
Thompson Drop Table – This technique uses table drop pieces that take up much of the force of the adjustment.
Sacro Occipital Technique (SOT) – If you prefer a less dynamic adjustment, this technique is ideal. SOT uses wedge-shaped devices, also called "blocks," to help correct the spine and "tune" the nervous system.
Activator Methods® – Instrument-based, this technique is highly gentle and specific. It's appropriate for patients of all ages, from young children to seniors.

We are proud to provide Chiropractic care for patients of all ages including babies and children. We adjust our approach to care, the techniques we use, and the level of pressure we apply to suit each patient's unique needs. We look forward to optimising your child's health with chiropractic.

Helping Patients Feel Comfortable
If you've never gone to a chiropractor before, you might wonder what to expect. What will an adjustment feel like? You should know that our chiropractor is a highly experienced practitioner who has been in practice for more than two and a half decades. He's checked 10s of thousands of spines and delivered 10s of thousands of adjustments over his years in practice.
Dr Jeff will take the time to get to know you and your needs. He will ask you questions and find out what you do for work, any sport or hobby you participate in, and what you might be doing to contribute to any pain or problems you're experiencing. When it's time for the adjustment, our chiropractor will take you through the entire process so you know exactly what to expect. He will custom-tailor your adjustment to address subluxations or interference in your spine that's contributing to your pain or particular health condition. Dr Jeff will always seek to get the best results possible for his patients.
The New Patient Journey
Depending on your circumstance, we will see you a few times a week in the beginning. As we address any subluxation (areas of spinal dysfunction) and your spine gets better, we can reduce the frequency of visits. Once your spine is operating and functioning as it should, we always encourage patients to maintain their corrections with periodic maintenance or wellness checkups.
Book an Appointment Online
If you've been looking for a drug-free and non-invasive way to address your aches and pains and experience greater vitality, contact us today to book a visit online. We look forward to assisting you with natural chiropractic care.
---
Chiropractic Care | (07) 3821 3103