Our Services
We believe in safe, natural health care. The Joint Chiropractically is the proud home of both chiropractic care and spinopractic massage. While chiropractic deals with the central nervous system and surrounding bones, massage helps alleviate issues related to the muscles and fascia.
Our practice finds that patients who simultaneously partake in chiropractic care and spinopractic massage tend to experience longer lasting results. However, these services can be successfully used separately or in conjunction with one another.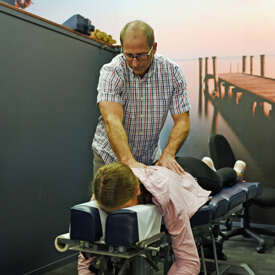 Chiropractic Care
Chiropractic care is an organic alternative to traditional health care. Rather than focus solely on the symptoms, it locates, evaluates, and corrects the source of pain and discomfort. By looking at bodily health through the eyes of the central nervous system, made up of the brain and spinal cord, chiropractic care offers organic, lasting healing.
Although Dr Jeff Yadlosky (Chiropractor) is trained in a variety of chiropractic techniques, he most commonly performs the Diversified technique. This hands-on, manual approach to care allows him to feel exactly what is going on in your body and provide the specific touch needed free your body of any interferences. Dr Jeff also uses the Activator Method®, Sacro-Occipital Technique (SOT), and Thompson Technique as needed.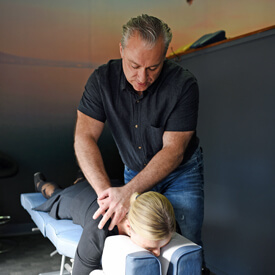 Spinopractic Massage
Along with chiropractic care, The Joint Chiropractically also offers spinopractic massage. Founded by Alex Oxford, our in-house massage therapist, this version of massage therapy involves postural correction.
By pressing in the natural direction that the muscles are working, we are able to encourage better muscle movement and stronger bodily posture.
Maintain Your Temple
With one life and one body through which to live it, we must treat our bodies as well as possible. Chiropractic care, spinopractic massage, and our educational guidance are excellent ways to achieve optimal well-being and maintain your temple.
Contact our practice for deeper insight into the services we provide and how they might help you. We are happy to address any questions or concerns you may have for us!
CONTACT US
---
The Joint Chiropractically Services | (07) 3821 3103