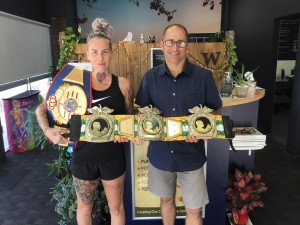 Rowdy Bec Rawlings, bare knuckle boxing world Champ!
Meet Bec Rawlings. At first glance you might think she just the girl from next door.  She is soft spoken with a sweet demeanor. But upon closer inspection you find she is a lot more intense, a bit edgy and really packs a punch. In fact you certainly wouldn't want to be on the other side of one of her punches. You see Bec is THE female feather weight bare knuckle boxing champion of the World. And she lives right here in the Redlands.
Rebecca currently holds 2 belts for bare knuckle boxing. The belt in her right arm is the World Boxing Foundation's Latin American Champions belt which she had recently won in a title fight in Cancun Mexico against her opponent Cecilia Flores. The other belt we are both holding is the Police Gazette Diamond Belt  which she successfully defended in Mexico. This belt is very heavy, loaded with bling and dates all the way back to 1884.
Prior to her fight against Flores, Bec trained 4 hours each day at her gym the United Fight Team in Toowong. As you can imagine, this sport is mentally and physically demanding. Looking after her body isn't a luxury but a necessity. One of the forms of self care in her corner has been Chiropractic at The Joint Chiropractically. She had been getting neck and low back pain that was restricting her mobility and affecting her sleep. The pain was, "definitely dampening her training and was a distraction," she said.
We know chiropractic care is extremely effective in helping with most cases of back and neck pain.  There are however many other benefits to chiropractic care beyond pain relief. Recent science conducted in Aukland New Zealand showed that following a single Chiropractic adjustment, skeletal muscles were able to produce 16% more  force than a control group who had not received an adjustment. This research clearly showed that spine and nervous system function impacts the way the brain is able to produce force and prevent muscles from fatiguing during repeated strong muscle contractions. This is information every athlete needs to know. You can view the results of this study in the short video below.
Bec values chiropractic in her health and for her performance as a bare knuckle boxer. Her partner and children also attend the office regularly for adjustments. Her partner, Adrian Road Rage Rodriguez, is a professional boxer. He, along with Bec, has been caring for his spine regularly to aid in his performance. Bec made a decision to bring her boys in for chiropractic check ups because she was starting to see postural problems showing up in their spines. She stated she wanted to correct these problems early so they don't develop the same types of issues she had.
Bec currently doesn't have another fight scheduled but you can follow her on Facebook by clicking here.  When asked about what the future holds  for her, she stated she is considering a transition into MMA (Mixed Martial Arts) competition.  Looking beyond her career as a fighter, she thinks she would like to open her own gym.
Bec is on the lookout for sponsors. If anyone is interested in promotional advertising by sponsoring her as a world champion fighter, contact her via Facebook.