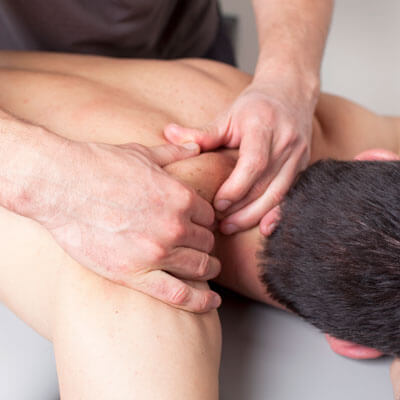 At The Joint Chiropractically, we are passionate about helping patients of all ages enjoy excellent spinal health. That's why we offer both chiropractic care and spinopractic massage, both of which complement each other. While both can help keep your spine healthy and strong, and relieve pain, there are some differences.
Chiropractic Care
With chiropractic, our focus is on getting the spine healthy versus relieving symptoms. When the spine works properly and healthily, the body can heal itself at a much higher level. At our practice, we use the following techniques:
Diversified – This manual, hands-on adjusting technique is the primary one that our chiropractor uses.
Thompson Drop Table – This technique uses table drop pieces that take up much of the force of the adjustment.
Sacro Occipital Technique (SOT) – If you prefer a less dynamic adjustment, this technique is ideal. SOT uses wedge-shaped devices, also called "blocks," to help correct the spine and "tune" the nervous system.
Activator Methods® – Instrument-based, this technique is highly gentle and specific. It's appropriate for patients of all ages, from young children to seniors.
Spinopractic Massage
While many techniques can be used when giving a chiropractic adjustment, with spinopractic massage, the one method used is deep tissue. This type of deep tissue massage mobilises the restrictions of the fascia. It also reaches the areas where the muscles are working hard to stabilize the spine and joints.
If you are having chiropractic care, it's ideal to have a spinopractic massage done beforehand, as it helps with any restrictions around the joints.
Book a Consult
Wondering if chiropractic or spinopractic massage is right for you? We may recommend that you receive both! Contact our practice today to schedule a consult. We want to help you achieve and maintain optimal spinal health, so you can feel your best!
CONTACT US