Don't Let Your Skeleton Scare You
As chiropractors, we deal with your musculoskeletal health. This Halloween, let all the skeleton decorations remind you of the importance of spinal hygiene. At The Joint Chiropractically, you can get the care and attention your skeleton needs!
A Few Easy Tips for a Healthy Skeletal System
There's plenty you can do to make sure that your spine stays in alignment outside of periodic visits to our practice.
Take a look at your mattress. Is it giving you the support your spine needs? If not, it may be time to go shopping for a new one.
Work on your core. It's not just about your abdominal muscles, but the ones in your back, too. By keeping these muscles strong, they can better support your joints.
Sit properly. We're on computers and devices most of the day, and slumping is nearly automatic for most people. Remember to check your posture to make sure you're not putting stress on your spine.
Wear the right shoes. It can be fun to dress up with high heels or dress down with thongs, but remember that your primary shoe should be comfortable and supportive.
Check Out This Sweet Promotion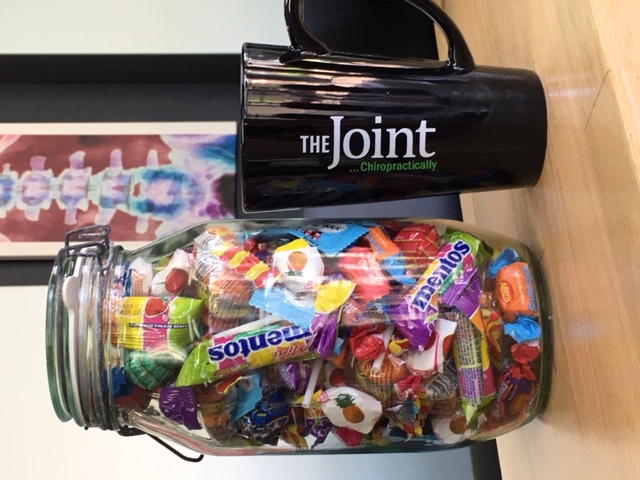 All month long, there will be a lolly jar at our office with a number of lollies inside. You can guess in person at the practice or online via the post on our Facebook page and win the entire jar of lollies. Terms and conditions apply:
One entry per person
One winner will be drawn on 30 October
The prize can be collected from the practice on 31 October – 7 November
No cash value
This contest is not affiliated with Facebook
Check out our Facebook page today, or drop by to take a guess!
Worried About Your Skeleton?
The Joint Chiropractically is just the place to have a checkup on your health. Contact our team now to make your booking!
---
Halloween Promotion The Joint Chiropractically | (07) 3821 3103